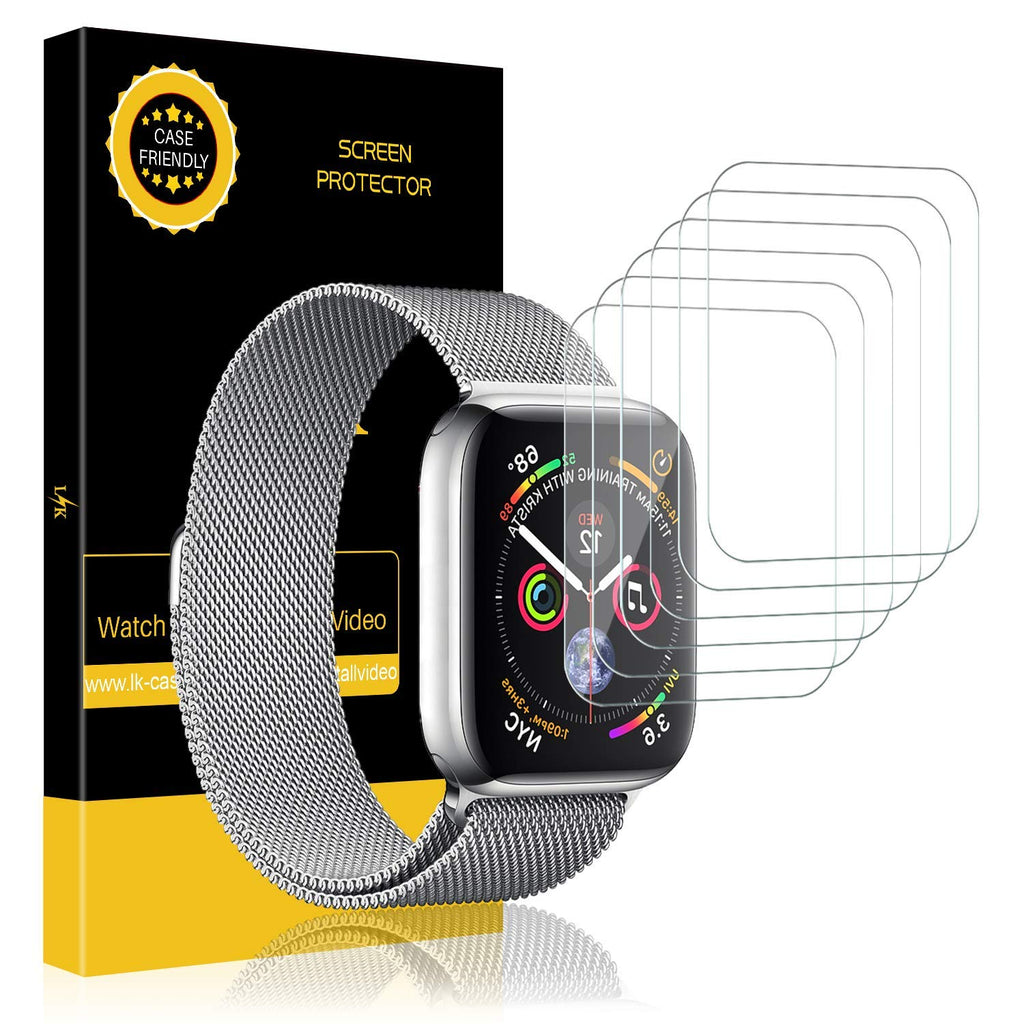 [6 Pack] LK for Apple Watch Screen Protector (42mm Series 3/2/1 44mm Series 4 Compatible), Liquid Skin [Full Coverage] [Anti-Bubble] HD Clear with Lifetime Replacement Warranty
[6 Pack] LK for Apple Watch Screen Protector (42mm Series 3/2/1 44mm S
$9.99 $29.99
Note: The screen size of Apple Watch 44mm Series 4 is the same as Apple Watch 42mm Series 3/2/1, except that the screen display area is 30% larger.

Our screen protector is specially designed for Apple Watch 44mm Series 4 and Apple Watch 42mm Series 3/2/1.

There is a gap between the screen protector of the watch case and the Apple Watch screen.

Unique adhesive: Liquid skin can be cleaned, reused, and reapplied.

The wet installation method ensures easy, bubble-free and frustration-free installation, making the film a perfect fit for any equipment.

Optical transparency: 99% high-definition clear screen, with a smooth glass-like surface and "real touch" feeling, and maintain bright and colorful image quality.

Special design: precise laser cutting technology can provide the largest screen coverage.

The flexibility of the material can even cover curved equipment.

Self-healing: Flexible, tough, military-grade thermoplastic polyurethane designed to absorb shocks.
Product Description
| | | |
| --- | --- | --- |
| 99% high-definition transparent hydrophobic and oleophobic transparent layer, the glass prevents fingerprints from sweat and oil stains, is not easy to stay on the surface, and is easy to clean | Maintain the original response sensitivity and ensure that the quick launch of the application allows 100% touch screen accuracy, which feels like a bare screen-not sticky, not rough, and not leftover | The high-definition transparent screen protector has a glass-like smooth surface and a "real touch" feel. Provide you with a high-definition and clear viewing experience, allowing you to enjoy an excellent viewing experience with higher brightness and less glare. |
compatible Apple Watch Screen Protector 42mm Series 3/2/1, Apple Watch Screen Protector Series 4 44mm